Writing & Editing Samples
I copy-edited several issues for Event Bookazines, a publisher of single-topic special-event magazines. The magazine titles I worked on were: The Great Gatsby, The Lone Ranger, Vikings, Women of the Bible, Women's Shoes: The History and The Passion, and The Book of Miracles.
Copy-Editing: Bookazines

Since 2013, I've completed contract work for Kim Adamof, owner of Raleigh Inbound Marketing. My work includes writing for her clients' blogs, newsletters, websites and social media posts. The clients have included medical spas, a vitamin manufacturer, physicians and a real estate agent. Raleigh Inbound Marketing helps businesses maximize their online presence.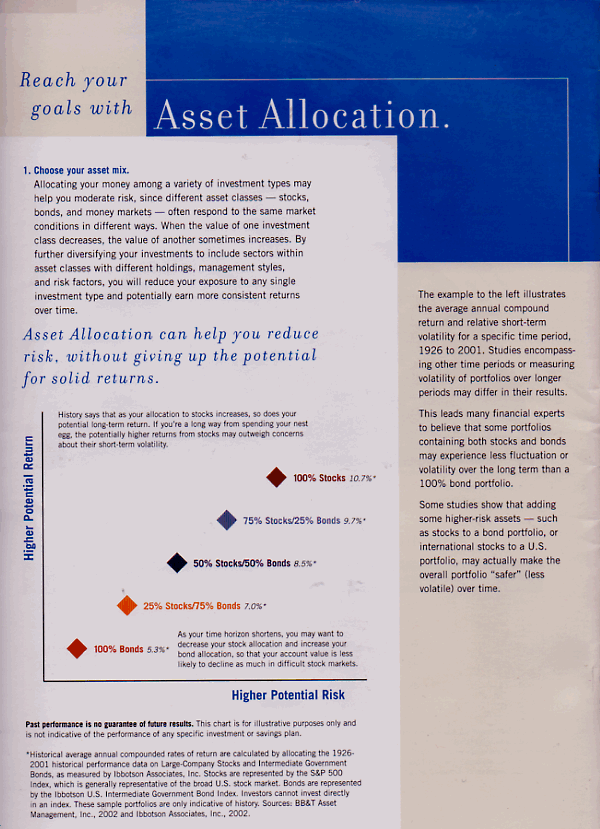 Financial Services
While working in the investment and banking industries for more than 15 years, I wrote and edited numerous articles, reports, RFPs and presentations for institutions, brokers, clients and 401k participants. One of my favorites is shown at the right: a page from a 401k investment education handbook, describing Asset Allocation in uncomplex terms.
Your project could be my next success story. To contact me about your writing or editing needs

>>
Joyous Junkets
Joyous Junkets is my blog. It's where I write for fun, mostly about my favorite pastime, travel. There you'll find stories about a few of my favorite trips, my favorite interview with a famous philanthropist, W. Clement Stone, and samples of some articles published by a medical spa and an anti-aging physician.